XENIX:MICRO Robotics Class
Introducing Malaysia's First Unique Robotic Learning Kit
"THE XENIX:MICRO ROBOTIC LEARNING KIT"
Xenix:Micro is formulated from the Micro:Bit which is from the UK. It is Xenix Robotics special tailor-made Robotics Educational Kit for children (adults too!) to learn programming.
Currently, more than one million students all over the world are learning Micro:Bit programming which incorporates STEAM electronics and robotics creativity. Micro:Bit has many in-built familiar devices such as Bluetooth, Micro USB ports and etc.. It also comes with a Micro Computer Unit (MCU) that allows children to gain programming and electronic knowledge at the same time with the Xenix:Micro special integration of software and hardware learning syllabus. Our specialty area is in Humanoid Robot and Sumo Robot. Learning is no longer limited to software platform.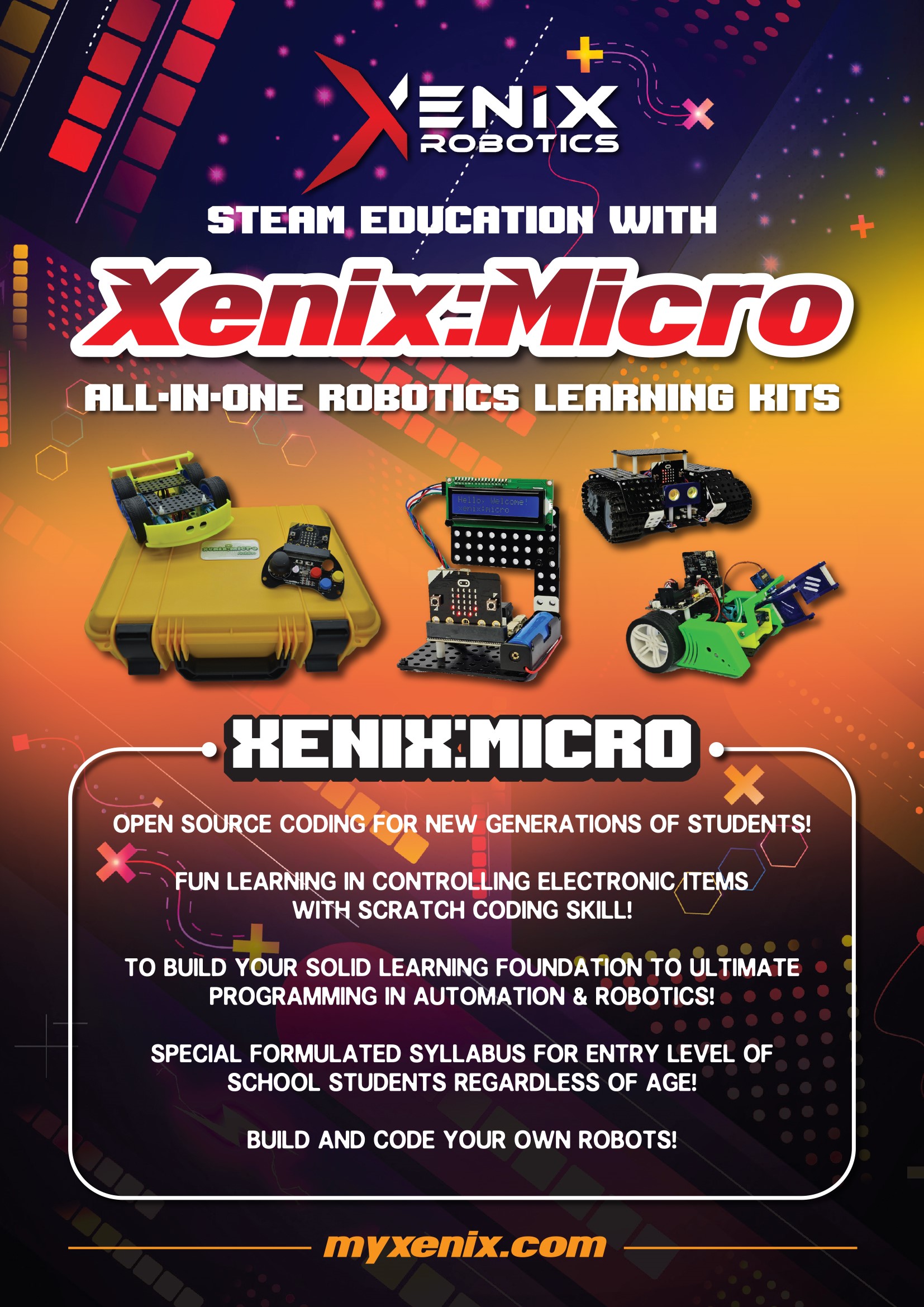 Xenix:Micro is a Robotic Learning Kit which is specially designed for modern young generation of students. Xenix:Micro follows the STEAM (Science, Technology, Engineering, Art & Mathematics) educational concept. Xenix:Micro is specially designed and formulated in such a way that allows student to ultimately learn :-
a) Scratch coding, Arduino and Python programming (All In One Course)
b) Practical knowledge in electronic hardware (actual soldering and wiring)
c) Understand basic physics in electricity
d) 3D drawing to design and the assembling of Robots (Your children's ultimate very own design and assembling of Robots for competition!)
Xenix:Micro is a true STEAM Education Kit, as it fulfils the criteria of Science, Technology, Engineering, Art and Mathematics.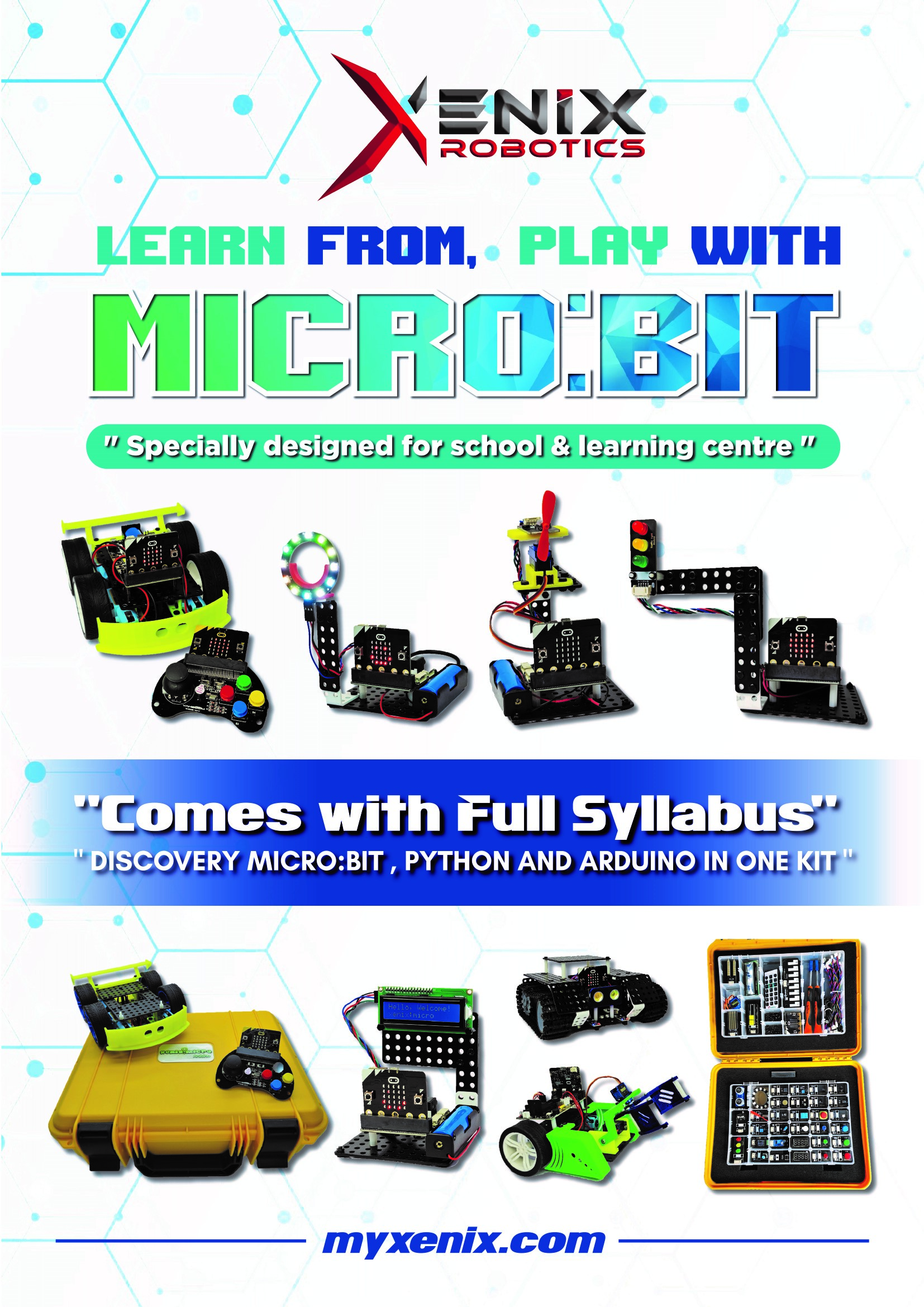 Xenix:Micro syllabus and learning kits includes an easy forward upgrade learning path which is economically designed (as it based on open source) to minimise the overall learning cost as the Xenix:Micro kits can be utilised for approximately two years. The Xenix:Micro unique Robotic Learning Kit alone includes 4 courses (stages) from STEAM ONE to STEAM FOUR.
The main advantages of learning Xenix:Micro
1. Our courses include basic computer knowledge, how to operate the computer and basic learning of Microsoft Word, Microsoft Excel, Microsoft PowerPoint, etc.
2. The goal of Xenix:Micro course is to enable young generation of modern students to gain a complete INTER-RELATED knowledge and understanding of robots with our specially design courses with students self-designing and programming the robot based on their own creativity, selection of electronic parts, selection of hardware parts, self-wiring up the robots before sending the robots for actual competitions locally and internationally. BUILDING A ROBOT ALL ON THEIR OWN! (Your children will make you proud!)
3. Xenix:Micro courses also encourages students to increase their self-confidence and
communication skills as team work and team interactions is required for the learning process to complete each STEAM project.
4. Xenix:Micro is not only about learning programming or about robot learning, but is also about instilling students personal discipline and attitude as we would be dealing with electrical item and electronic tools. After 8 years of actual building Robots together with students, we at Xenix Robotics understand and knows how to instil discipline into students. With discipline and the right attitudes, we will go and win competition as well as we have won many championships in the previous years!
5. Parents no longer need to worry about spending excessive funds to buy learning kits.
Our open source Xenix:Micro is specially cater to students at affordable reasonable price. Parents will be able to follow and discuss their children's learning progress as well after the completion of each course.
6. Xenix Robotics Workshop also cater to working adult to learn and join our Robotics Class Too! If you are interested, please contact us as soon as possible! Free two-hour trial lesson!